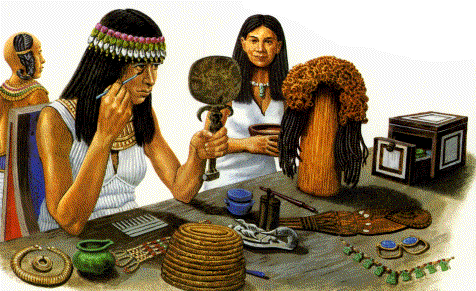 The ancient Egyptians regarded beauty as a sign of holiness. Everything the ancient Egyptians used had a spiritual aspect to it, including cosmetics, which is why cosmetics were an integral part of their daily lives. In tombs, cosmetic palettes were found buried with the deceased as grave goods which further emphasized the idea that cosmetics were not only used for aesthetic purposes but rather magical and religious purposes.
Ancient Egyptians wore cosmetics regardless of gender or status, as they believed that cosmetics had magical power. They paid extra attention to eye makeup and they usually lined their eyes with a black galena, kohl (black eyeliner), that was placed in small kohl containers and applied with a wooden stick, creating an almond-shaped eye.
The almond-shaped eye resembles the falcon eye of the God Horus. The eye of Horus was believed by the Egyptians to have magical protective powers from the myth of the battle of Horus as revenge for his father Osiris, where it was said he lost his left eye which was later magically restored (Mannichie 34). Therefore, the ancient Egyptians wore the black kohl and used green eye paints under their eye to ward off evil spirits and as a way to keep their eyes protected from eye diseases. The use of eye paints played an important role as well in the afterlife of the ancient Egyptians. "Before presenting himself (the deceased) at the tribunal in the 'Hall of Justice' the candidate must purify himself, dress in white garments, make up his eyes and anoint himself. Only then may he enter the realm of Osiris". The deceased had to line his eyes with kohl in order for him to face the judgment of Osiris and move on to the afterlife. Moreover, ancient Egyptians, especially royalty, wished to preserve their youthfulness and be always depicted in an ideal state in art as part of their divine nature. They used oils such as castor oil, sesame oil and Moringa oil in their daily skin care regimen to fight wrinkles . Their favorite colors were black, green and purple.
The two main forms of eye makeup were green eye paint and black kohl. The green eye paint was made of malachite, a green carbonate of copper, and the black kohl was made from a substance called galena, a dark grey ore of lead. The malachite was used in the early predynastic period, whereas galena was introduced in the late predynastic period (Lucas 41). Kohl has two components: laurionite and phosgenite. These two minerals were not readily available in Egypt, which means that the ancient Egyptians must have used wet chemistry in order to synthesize them by filtering of rock salt and natron (Spotts). Facial makeup included stain for cheeks and lips that was produced from red ochre from naturally colored clay that was mined and washed then dried in the sun or burnt to achieve the red pigment (Egyptian Make up). Henna, a naturally occurring plant, was used by the ancient Egyptians to paint their nails and dye their hair.
Versione Italiana: